How to Schedule an Exploration
An Email with Report Details and Attachment
Scheduled Execution
Regular updates on how your KPIs are changing and keeping track of your team's performance/progress is critical. On Klera, you can create schedules to update the KPIs made using your data.
Schedules can be recurring daily, weekly, or monthly. You can also schedule PDF report generation and publish your Exploration at a planned time in the future.
How to Schedule an Exploration

To schedule an Exploration, follow the steps mentioned below:

Open the Exploration and then select

File Menu

>

Schedule > Exploration

.

Enter details in the

'Add Schedule'

dialog box:

Start date-time

: The first kick-off of the schedule.

Recurrence Pattern

: Choose from the drop-down list.

Frequency

: Based upon the recurrence pattern selected in the previous step, you can define recurrence frequency. For e.g. for monthly recurrence pattern, you can define to run the schedule after every two months.

End recurrency by

: You can specify "No End Date" or "End By Date" to define the date when the schedule will expire.

Other actions on schedule completion:

Publish


Select this checkbox to automatically Re-publish the Exploration upon completion of the scheduled execution.

Generate PDF Report


Select this checkbox to automatically generate a PDF report of this Exploration upon completion of the scheduled execution. After selecting this checkbox, you can specify the pages to be included in the report.

Send Mail (On Publish or PDF Report Generation):


Select this checkbox to send an email after Exploration has been published or PDF has been generated on the scheduled execution. After selecting this checkbox,

provide the

Email ids

of recipients and

Subject

of the email that will be sent to these recipients.

Click

Add

to create the schedule.




Note: To understand "Include complete data" option please refer to
Reporting
.
When the Exploration is executed as per the schedule, you will receive a notification. The following figure displays the notifications generated for scheduled Exploration execution, report generation, and published Exploration.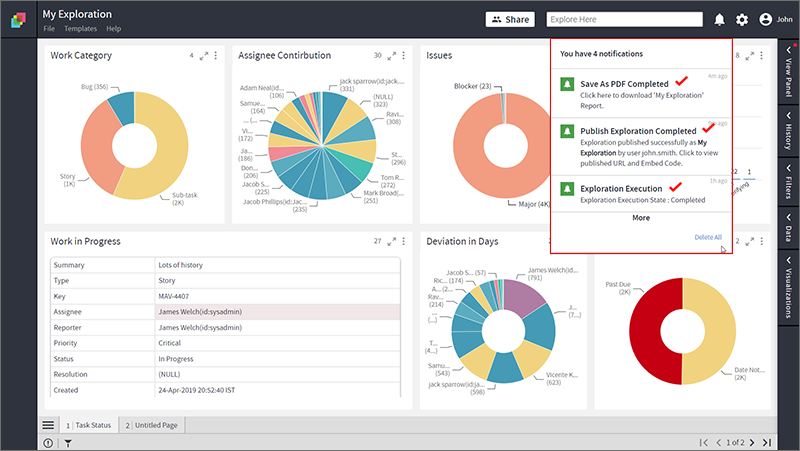 The users will also get an email containing the publish and report details, as shown in the following figures.
1. An Email with Publish Details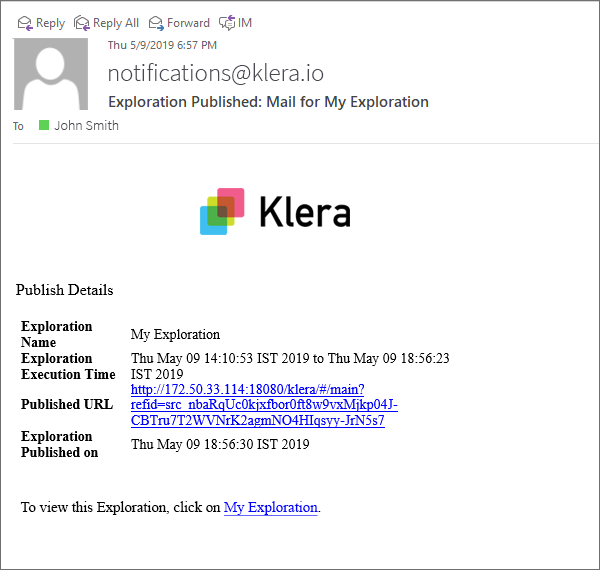 2. An Email with Report Details and Attachment
Manage Schedules
Right-click on the Floor, select Scheduler > View Schedules to view the schedules.
You will get the details of the schedules for the Exploration such as Recurrence Pattern, Creation details.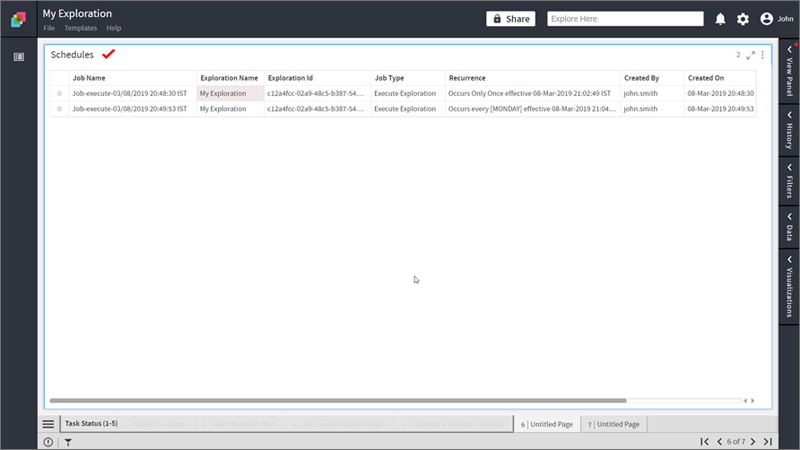 Right-click on a Job Name and select Scheduler option to do the following operations:
Delete Schedule

Edit Schedule

Get Schedule Details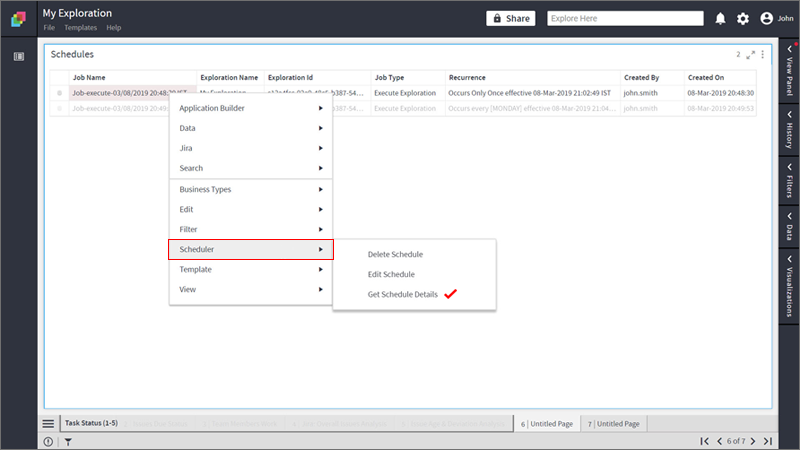 You can Edit and Delete the schedule, as required. You will get the Schedule Details such as Exploration Name and Execution Start and End Time, Failure Reason and Current State.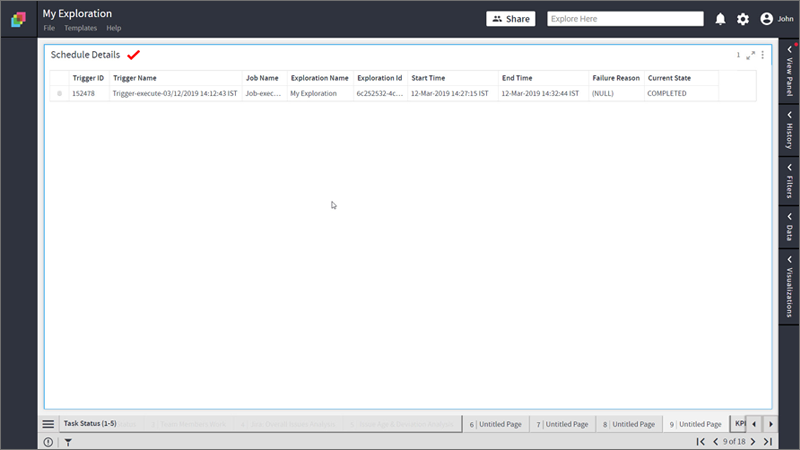 View History
Select File Menu >View History to get the history of execution of the current Exploration.