Supported version: Server/ Datacenter from V7.7 up to V9.5 and Jira Cloud.
API Rate Limit: No Limit
Steps to generate Jira Cloud Token:
Create an API token from your Atlassian account:
Log in to https://id.atlassian.com/manage/api-tokens.
Click Create API token.
From the dialogue that appears, enter a memorable and concise Label for your token and click Create.
Click Copy to clipboard, then paste the token to your script, or elsewhere to save.
IMPORTANT: Please make sure your Jira (Server and Cloud) instance must be accessible from the Klera Machine.
Supported Authentication
Basic authentication
To configure Jira to use Basic authentication:
Enter your Jira URL for example http://jira.klera.io
Select "Create New Account" and add account name
Enter your email Id as Username and Jira Cloud Token as Password(in case of Cloud Jira) and User Name and Password(in case of On Prem Jira).
Click on "Save"
Token based Authentication
Steps to generate personal access token in Jira Server.
In your Jira UI Select your profile picture at the top right of the screen, then choose Profile. Once you access your profile, select Personal Access Tokens in the left-hand menu.
Select Create token.
Give your new token a name.

Click Create.
To configure Jira Server using Token based authentication:
1. Enter your Jira URL for example http://jira.klera.io
2. Select "Create New Account" and add user-friendly account name, for e.g. Jira Server Acccount.
3. Check "Pass Parameter(s) in Header" and enter followings:
Key : "Authorization"
Value : Bearer<SPACE><Your API Token>
4. Click on "Save".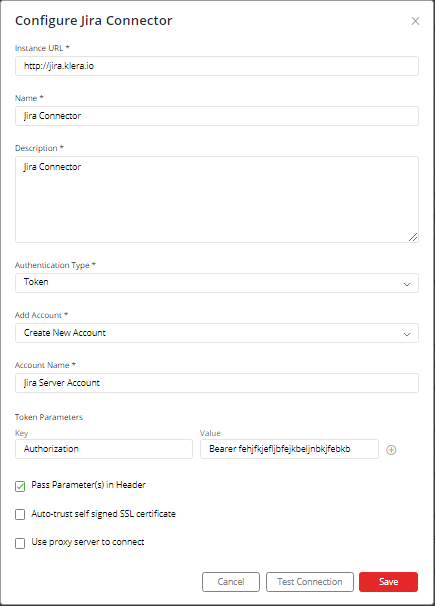 Jira Connector Operation Details:
| | | | | | |
| --- | --- | --- | --- | --- | --- |
| S.No. | Operation Name | Operation Type | Description | Discovery On Column Name | Business Type |
| 1 | Actors | Context | Get all the Actors/Users of the Project and the Role. | Project+Project Role(Formula Column having JIRAPROJECTROLE Business Type). We can get value for Project Role from Administrators column in Roles Dataset. | JIRAPROJECTNAME,JIRAPROJECTROLE |
| 2 | Add Affect Version | Writeback | Add the Affect Version on the Issue key. | Right click on container | |
| 3 | Add Assignee | Writeback | Add an Assignee on an IssueKey | Right click on container | |
| 4 | Add Comment | Writeback | Add the Comment on an Issue Key. | Right click on container | |
| 5 | Add Component | Writeback | Add the Component on an Issue Key. | Right click on container | |
| 6 | Add Fix Version | Writeback | Add the Fix Version for the Issue Key. | Right click on container | |
| 7 | Add Label | Writeback | Add the Label on an Issue Key. | Right click on container | |
| 8 | Affected | Context | Get all the issues of the affected release(s). | Release | JIRARELEASENAME |
| 9 | All | Context | Get all the Issues of the User(s). | Project Lead,Assignee,Creator,Reporter | JIRAUSERDISPLAYNAME |
| 10 | All | Context | Get all the issues of all the release(s). | Release | JIRARELEASENAME |
| 11 | All | | Get all the issues of the Jira user(s). | Project Lead,Assignee,Creator,Reporter | JIRAUSERDISPLAYNAME |
| 12 | Application Details | Floor | Get the details related to the Application (required JIRA admin permission). | | |
| 13 | Assigned | Context | Get all the Assigned Issues of the User(s). | Project Lead,Assignee,Creator,Reporter | JIRAUSERDISPLAYNAME |
| 14 | Attachments | Context | Get all the Attachments of the issue key(s). | Key | JIRAISSUEKEY |
| 15 | Audit | Floor | Get all the Audits (required JIRA admin permission). | | |
| 16 | Boards | Context | Get a list of boards for a project. | Project | JIRAPROJECTNAME |
| 17 | Burndown Chart | Context | Get the Burndown Chart Details of the Boards and the Sprints. | Origin Board Id+ Sprint | JIRAORIGINBOARDID,JIRASPRINTNAME |
| 18 | Child Issues | Context | Get all the Child Issues of the Parent Issue(s). | Key | JIRAISSUEKEY |
| 19 | Comments | Context | Get the comments of the issue. | Key | JIRAISSUEKEY |
| 20 | Completed Issues | Context | Get the details about the Completed Issues. | Origin Board Id+ Sprint | JIRAORIGINBOARDID,JIRASPRINTNAME |
| 21 | Components | Context | Get a list of components of project(s). | Project | JIRAPROJECTNAME |
| 22 | Components | Floor | Search for issues in Components Based on IssueType, Status and Time Frame. | | |
| 23 | Create Component | Writeback | Create Component of the Project. | Right click on container | |
| 24 | Create Issue | Writeback | Create a new Jira Issue. | Right click on container | |
| 25 | Create New Issue | Writeback | Create an issue with story points. | Right click on container | |
| 26 | Create Release | Writeback | Create a new Release for the Project. | Right click on container | |
| 27 | Create Sprint | Writeback | Create a Sprint on a board. | Right click on container | |
| 28 | Create Version | Writeback | Add Version in a Project. | Right click on container | |
| 29 | Detail | Context | Get all the details about the issue. | Key | JIRAISSUEKEY |
| 30 | Details | Context | Get the details of the release(s). | Release | JIRARELEASENAME |
| 31 | Execute as JQL | Context | Search the text as JQL in Jira | Formula Column having the required JQL and assigning it Business Type JIRAJQL | JIRAJQL |
| 32 | Execute Text as JQL | Context | Execute the text as a JQL in Jira. | Formula Column having the required JQL | |
| 33 | Favorites | Floor | Get a list of filters marked as Favorite. | | |
| 34 | Fields | Floor | Get all the Fields in Jira. | | |
| 35 | Fixed | Context | Get all the issues of the fixed release(s). | Release | JIRARELEASENAME |
| 36 | Group Users | Context | Get all the Users of the Group(s). | Actor/Group Name | |
| 37 | History | Context | Get the History of the Jira Issue Key. | Key | JIRAISSUEKEY |
| 38 | Issue Types | Context | Get all the IssueTypes of the Project(s). | Project | JIRAPROJECTNAME |
| 39 | Issues | Context | Get all the Issues of the Component(s). | Component | JIRACOMPONENTNAME |
| 40 | Issues | Context | Get all the issues of the project(s). | Project | JIRAPROJECTNAME |
| 41 | Issues | Context | Get all the Issues of the Sprint(s). | Sprint | JIRASPRINTNAME |
| 42 | Issues | Context | Get all the Jira issues of the selected Git user. | Formula Column having the required GitLab user and assigning it Business Type GITHUBUSER | GITHUBUSER |
| 43 | Issues | Context | Get all the Jira issues of the selected Git user. | Formula Column having the required GitLab user and assigning it Business Type GITLABUSERDISPLAYNAME | GITLABUSERDISPLAYNAME |
| 44 | JQL | Floor | Perform search in Jira using JQL. | | |
| 45 | Linked Issues | Context | Get the list of Issues linked with the Issue(s). | Key | JIRAISSUEKEY |
| 46 | My | Floor | Get the user owned Filters. | | |
| 47 | Projects | Context | Get a list of Projects for a Board | Board | JIRABOARDNAME |
| 48 | Projects | Floor | Search for Issues in Projects Based on IssueType, Status and Time Frame. | | |
| 49 | Punted Issues | Context | Get information of Punted Issues | Origin Board Id+ Sprint | JIRAORIGINBOARDID,JIRASPRINTNAME |
| 50 | Releases | Context | Get a list of versions of project(s). | Project | JIRAPROJECTNAME |
| 51 | Releases | Floor | Search for issues in versions based on IssueType, Status and Time Frame. | | |
| 52 | Reported | Context | Get all the Reported Issues of the User(s). | Project Lead,Assignee,Creator,Reporter | JIRAUSERDISPLAYNAME |
| 53 | Roles | Context | Get all the Roles of the Project(s) in multiple DSTs. | Project | JIRAPROJECTNAME |
| 54 | Roles | Context | Get all the Roles of the Project(s) in single DST. | Project | JIRAPROJECTNAME |
| 55 | Sprints | Context | Get a llist of sprints of board(s). | Board | JIRABOARDNAME |
| 56 | Sprints Summary | Context | Get the Sprints Summary. | Origin Board Id+ Sprint | JIRAORIGINBOARDID,JIRASPRINTNAME |
| 57 | Statuses | Context | Get all the Statuses of the Project(s). | Project | JIRAPROJECTNAME |
| 58 | Sub Issues | Context | Get the Sub Issues of the epic(s). | Key | JIRAISSUEKEY |
| 59 | Sub Task | Context | Get the Issue's sub-task | Key | JIRAISSUEKEY |
| 60 | Text | Floor | Text to search | | |
| 61 | Update Existing Issue | Writeback | Update an existing issue. | Right click on container | |
| 62 | Update Issue | Writeback | Update an existing Issue with the new values. | Right click on container | |
| 63 | Update Priority | Writeback | Set the Priority to an Issue Key. | Right click on container | |
| 64 | Update Release | Writeback | This operation will update an existing Release | Right click on container | |
| 65 | User Details | Context | Get the Details of the User(s). | Project Lead,Assignee,Creator,Reporter | JIRAUSERDISPLAYNAME |
| 66 | Velocity Chart | Context | Get the velocity chart of the board(s). | Board | JIRABOARDNAME |
| 67 | Velocity Chart Additional Details | Context | Additional details of velocity chart | Board | JIRABOARDNAME |
| 68 | View all boards | Floor | View all the boards. | | |
| 69 | View all projects | Floor | View all the projects. | | |
| 70 | Worklog | Context | Get the worklogs of the issue(s). | Key | JIRAISSUEKEY |